A forestry model in transition? Changing Values and land-use regulations in French Mediterranean Forests
¿Un modelo forestal en transición? Transformación de valores y modos de regulación de la utilización forestal mediterránea francesa
Un modèle forestier en transition ? Transformation des valeurs et modes de régulation des usages en forêts méditerranéennes françaises
The article examines the debates that have taken place since the 1980s and 90s on forest management methods, with the institutionalization of global change policies (climate change, erosion of biodiversity) as a backdrop. Analyzing arguments from various stakeholders involved in the management of French Mediterranean woodlands, this article highlights the transformation process of the social values linked to nature, namely the ecologisation of instrumental values and emergence of intrinsic value. These changes call into question the methods use to regulate the use of woodlands areas, in which the State and its forestry administration have played a predominant role since the nineteenth century.
En este artículo, se trata de las discusiones que se llevan a cabo en Francia, sobre la gestión forestal, desde de los años 1980-1990, en un contexto de institucionalización de políticas de lucha contra los cambios globales (cambio climático, erosión de la biodiversidad). Partiendo del análisis de los argumentos de los diferentes actores a quienes la gestión de los bosques mediterráneos franceses les atañe, se aclaran aquí, los procesos de transformación de valores sociales otorgados a la naturaleza, entre la ecologisación de los valores instrumentales y la emergencia del valor intrínseco. Esas transformaciones ponen en tela de juicio, los modos de regulación de las utilizaciones de los espacios forestales, en los que el Estado y su administración forestal juegan un rol preponderante, desde el siglo XIX.
Cet article porte sur les débats en France depuis les années 1980-1990 autour des modes de gestion forestière, dans un contexte d'institutionnalisation des politiques de lutte contre les changements globaux, plus précisément le changement climatique et l'érosion de la biodiversité. A partir d'une analyse des argumentations des différents acteurs concernés par la gestion des forêts méditerranéennes françaises, il met en lumière les processus de transformation des valeurs sociales accordées à la nature, entre écologisation des valeurs instrumentales et émergence de la valeur intrinsèque. Ces transformations mettent en question les modes de régulation des usages des espaces forestiers, dans lesquels l'Etat et son administration forestière jouent un rôle prépondérant depuis le XIXe siècle.
Fichier principal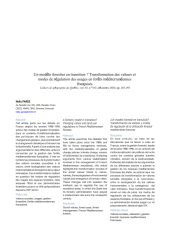 pares-2020.pdf (713 Ko)
Télécharger le fichier
Origin : Files produced by the author(s)