Socio-cultural importance, economic and therapeutic potential of Carapa (Meliaceae) in Senegal.
Importance socio-culturelle, potentialités économiques et thérapeutiques du Carapa (Meliaceae) au Sénégal
Carapa species are trees and shrubs of tropical forests. In Africa, although Carapa species are widely distributed and diversified from Senegal to Rwanda, their commercial exploitation remains restricted despite their known domestic uses. In Senegal, Carapa is most abundant in Mid and lower Casamance and in the gallery forests of East Senegal. Carapa species are recognised for socio-cultural or medicinal importance throughout their area of distribution.Traditionally the oil is extracted by women in menopause and is used to treat dozens of illnesses and in cosmetics. Leaves, bark and roots are also used.
Les Carapa sont des arbres et arbustes des forêts tropicales. En Afrique, si les Carapa sont largement distribués et diversifiés du Sénégal au Rwanda, leur exploitation commerciale demeure cependant embryonnaire malgré des usages domestiques reconnus. Au Sénégal les Carapa sont plus abondants en moyenne et basse Casamance et dans les galeries forestières des savanes du Sénégal oriental. Les Carapa sont d'importance socio-culturelle ou médicinale reconnue sur toute leur aire de distribution. L'huile est traditionnellement extraite par les femmes ménopausées et est utilisée dans le traitement d'une dizaine de maladies et en cosmétique. Les feuilles, les écorces et les racines sont également utilisées.
Fichier principal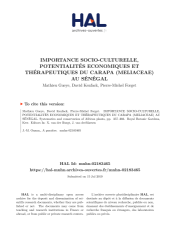 2010_AETFAT_Gueye et al (1).pdf (253.88 Ko)
Télécharger le fichier
Origin : Files produced by the author(s)