Projet de cartographie nationale des milieux humides - Rapport de restitution de la campagne de terrain 2021-2022
The National Wetlands Mapping Project provides a preliminary delineation of wetland eco-systems based on the Ramsar definition and the national legal definition (amended 2008 decree). Recent advancements in Artificial Intelligence algorithms have enabled the use of precise and high-quality environmental variables and archive data on flora and soils (INPN, IFN, Donesol) for the de-lineation of areas where wetland ecosystems most likely occur. During the project, independent field data collected by territorial services of OFB, PatriNat OFB-MNHN, and the Institut Agro Rennes-Angers were used to retrospectively evaluate the accuracy of the preliminary delineation map. This report describes the approach and methodology used to collect this independent field data. A total of 4,263 surveys were conducted on 756 sites, distributed across various hydro-geomorphological systems and ecological contexts in mainland France. These data were used to assess the accuracy of the produced wetland maps and the final results show that it even higher than those of the existing similar products at both international and national levels. The report in-cludes a comprehensive discussion of the limitations of the implemented mapping approach and any associated artifacts. This report is complemented by cartographic atlases and portfolios in 11 volumes produced for 11 watersheds where independent field data were collected. These volumes can be used to compare the results of the field campaign with the preliminary delineation in various ecological con-texts. These findings should help to improve our knowledge for wetland conservation.
Le projet de cartographie nationale des milieux humides fournit une prélocalisation des milieux humides d'après une interprétation de la définition de Ramsar, et une prélocalisation des zones humides d'après la définition règlementaire (arrêté de 2008 modifié). Les dernières avancées dans le domaine de l'intelligence artificielle ont permis d'utiliser des variables environnementales et des données d'archives précises et de qualité, sur la flore et le sol (INPN, IFN, Donesol), afin de prélocaliser les milieux humides et les zones humides. Durant le projet, des données indépendantes collectées sur le terrain, par les services territoriaux de l'OFB, PatriNat OFB-MNHN et l'Institut Agro Rennes-Angers ont permis d'évaluer a posteriori la qualité des prélocalisations produites. Ce rapport rend compte de la démarche et de la méthode mise en œuvre pour collecter ces données indépendantes sur le terrain. Au total, 4 263 relevés ont été réalisés sur 756 sites, répartis dans divers systèmes hydrogéomorphologiques et dans des contextes écologiques représentatifs de la métropole. Ces données sont utilisées pour analyser la qualité de la prélocalisation. La qualité des résultats de la prélocalisation s'avère meilleure que celle de produits de prélocalisation similaire, à l'échelle internationale et nationale. Les limites des résultats de cette prélocalisation et les artéfacts font l'objet d'une discussion détaillée. Ce rapport est articulé avec des atlas cartographiques et portfolios en 11 volumes produits sur 11 bassins versants où des données indépendantes ont été collectées sur le terrain. Avec ces volumes, il est possible de comparer les résultats de cette campagne de terrain et de la prélocalisation dans des contextes écologiques très différents. Ces résultats doivent promouvoir une connaissance partagée pour mieux préserver les milieux et les zones humides.
Fichier principal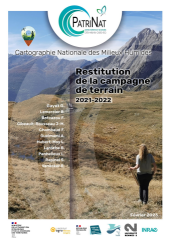 Cartographie_nationale_MH_rapport_terrain.pdf (12.79 Mo)
Télécharger le fichier
Origin : Files produced by the author(s)