La poésie antique du Sangam est-elle vraiment une poésie du paysage ? Littérature tamoule classique et vision contemporaine du paysage
The Tamil "Sangam" poetry, which is two millennia old, is often described as "landscape poetry". It could be compared to the Chinese shanshui poetry, which is slightly later (4th century AD). To what extent did the Indian poets of that time pay real attention to the landscape? Could it be that this literature is, according to the expression of A. Berque (2016), a real "thought of landscape"? Indeed, emotions and a whole "inner landscape" are reflected in it. In particular, a word often used by later medieval commentators to classify the poems is commonly translated as "landscape". Yet this term, tinai, is very rare in the works themselves. The article describes the successive avatars of this poetry and the notion of tinai in Tamil memory and contemporary society. Nowadays, a regionalist reading, often very political, has contributed to fossilize the poems under this label of landscape literature.
La poésie tamoule dite du Sangam, vieille de deux millénaires, est souvent qualifiée de « poésie du paysage ». Elle pourrait être ainsi comparée à la poésie chinoise du shanshui, qui lui est un peu postérieure (4ème siècle après J.C.). Dans quelle mesure les poètes indiens de l'époque portaient-ils une réelle attention au paysage ? Se pourrait-il que cette littérature puisse relever, selon l'expression d'Augustin Berque (2016), d'une véritable « pensée du paysage » ? De fait, les émotions et tout un paysage intérieur s'y reflètent. En particulier, un mot souvent employé par les commentateurs médiévaux ultérieurs pour classifier les poèmes est couramment traduit par « paysage » ou landscape. Pourtant ce terme, tinai, est très rare dans les œuvres mêmes. L'article décrit les avatars successifs qu'ont connus cette poésie et la notion de tinai dans la mémoire tamoule et la société contemporaine. De nos jours, une lecture régionaliste, souvent très politique, a contribué à fossiliser les poèmes sous cette étiquette de littérature du paysage.
Fichier principal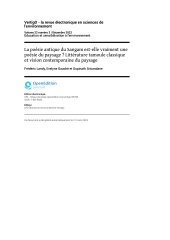 vertigo-Sangam-Landy prépubli.pdf (474.82 Ko)
Télécharger le fichier
Origin : Publisher files allowed on an open archive
licence : CC BY NC ND - Attribution - NonCommercial - NoDerivatives